INBOUND MARKETING PROCESS
Conventional marketing is one-way, intrusive and disruptive. Think about TV Ads, radio, billboards and junk mail. Conventional marketing pays for interruption and impressions, which means you buy everything, including: ad space, mailing lists, air time, printing and postage, in addition to agency costs (i.e. commissions, retainers and hourly fees). The basic theory is to outspend your competition to gain market share. This is an archaic and faulty process.
We believe there is a better way. While we don't have all the answers, we're willing to take some risks in search of them, starting with new baseline service packages and pricing in which you pay for production, participation and performance.
The inbound marketing methodology is based on getting found by your potential customers, converting visitors to leads and leads to customers, and analyzing your tactics, methods and results.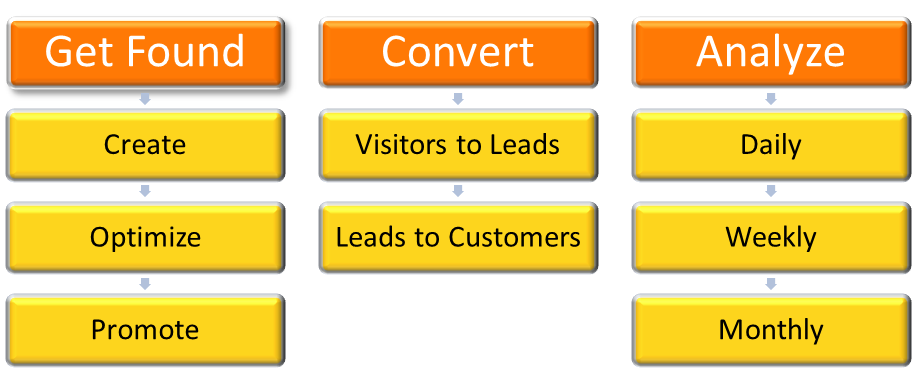 Get Found
The internet provides an opportunity to attract visitors and potential customers to your website. This is done by:
Creating Content: Your potential customers are on the internet looking for solutions to their problems. By creating content such as blogs, e-books, white papers, webinars, and videos you are providing valuable content that attracts them to your website.
Optimize: Optimizing your content and website with keywords, inbound links, and highly rated content increases your website's Search Engine Optimization (SEO) that enables potential visitors to find your website through internet searches.
Promote: Strategically leveraging the power of social media such as Facebook, Twitter, LinkedIn, YouTube and other platforms to promote your content to a new audience while building loyalty and maintaining connections with current customers.
Convert
Once visitors are reading your blogs or downloading your content you want to turn those visitors into leads and turn the leads into customers.
Visitors to Leads: Utilizing landing pages and contact forms that can be customized for each offer, campaign or event our platform captures lead information that can be used to further engage the lead and track progress.
Leads to Customers: E-mail nurturing campaigns, conversion landing pages and lead tracking applications enable you to turn your leads into customers.
Analyze
No marketing campaign is complete without detailed statistics and data to analyze your efforts and the effectiveness of marketing tactics and strategies.
Reach: Measure how many people you reach through the different social media platforms and get an accurate account of which blogs and pages are viewed.
Sources: Measure what platforms are most successful in generating traffic, converting leads and generating customers.
SEO Measurement: Measure what content is ranking for keywords, what content generates inbound links, what content improves your SEO ranking.
Effectiveness of Campaigns: Measure the effectiveness of each marketing effort whether it is a social media campaign, pay-for-click ads, trade show or conventional advertising.
Reports: Statistics are updated daily and weekly and monthly reports are standard.
Evaluate and Adjust: Inbound marketing is not an exact science so we will use measurement and analytical tools to continue tactics that work and jettison tactics that fail.
There are many options for a truly effective inbound marketing campaign. Find a solution that best fits your needs and budget. Every business is unique so contact us for a free website evaluation and needs assessment.
You can find out more details about inbound marketing in these sections:
SERVICE PLANS AND PRICING: Find a solution that best fits your needs and budget. Every business is unique so contact us for a free website evaluation and needs assessment.
INBOUND MARKETING PROCESS: Find out more about how inbound marketing works and how it can help your online marketing plan.
BENEFITS OF INBOUND MARKETING: No marketing plan makes sense without a positive return on your investment. Learn more about the benefits of inbound marketing.
MARKETING ANALYTICS: Measure the success of every marketing campaign with built in analytics and reports.