Free Inbound Marketing Web Analysis
Inbound Marketing gives small and medium sized businesses and organizations the ability to grow faster and smarter by outthinking, not outspending, the competition.
The inbound marketing methodology is based on getting found by your potential customers, converting visitors to leads and leads to customers, and analyzing your tactics, methods and results.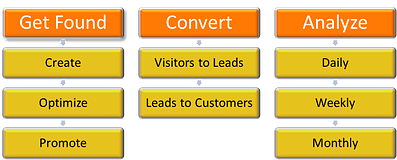 Image Media Partners will evaluate and analyze your effectivness in attracting traffic and customers by evaluating your site's:
Search Engine Optimization
Blog Effectiveness
Social Media Engagement
Inbound Links
Web traffic
For a free, no obligation, consultation and evaluation of your current inbound marketing plan and web site fill out the form on the right.