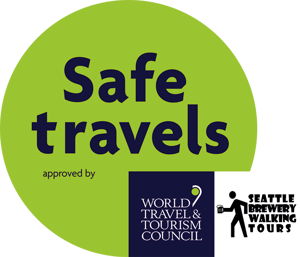 As of June 5th King County, and the breweries in Seattle will begin to open up. The guidelines can be very confusing and they change as we move through different levels from phase 1 through phase 4. A new COVID-19 outbreak may mean we go back to closing businesses, including breweries. This is one reason we have decided to follow the World Travel & Tourism Council global protocols for "Safe Travels."
During the modified Phase 1 reopening of the breweries the restrictions will include:
No bar seating
25% capacity for indoor seating
50% capacity for outdoor seating
All parties and tables must be 5 guests or less
Guests seated at a table are a minimum of 6 feet away from guests at adjacent tables
Customers should wear a cloth face covering anytime they are not seated at a table
This will really affect our ability to conduct tours and tastings. Because of this there are several things we will be doing to keep our staff and our customers safe.
Our tours will be limited to only 4 guests at a time
Free hand sanitizer and a disposable mask will be included in our guest bag
Guests will be asked to wear a mask when we are not tasting beers
Guests will be asked to obey all the posted guidelines and rules for the breweries we visit
Anyone who is noticeably ill will be asked to leave the tour with a 75% refund
Private tours for up to four guests are now available. If you would like to go on a tour but do not want to be too close to people outside of your quarantine bubble, private tours from one to four people are available.
A Self-Guided Tour App for those who would like to visit the breweries, learn about each brewery and get some great suggestions on what beers to try is now available. Read our blog: Brewery Tours using our Virtual Tour App.
Because of the uncertain nature of the Covid-19 pandemic, guidelines may change, restrictions may be reimposed, breweries may be above their recommended capacity or they may be closed. Because of this our tours will be more flexible. We may need to change the itinerary if a brewery is too crowded or closed. We may need to wait for seats to open up so we can be safely seated. This may mean starting at a different brewery or walking a few blocks to find a brewery that is not as crowded. Our staff will be in contact with the breweries to try to minimize these disruptions but there is no guarantee. Despite these disruptions our guests will still have a unique brewery experience and during our guided tasting sample at least 12 unique beers.
To minimize these disruptions, we are implementing several policies to help our guests.
Your credit card will be put "on hold" and will not be charged until the day of the tour.
If we need to cancel a tour because of the pandemic or health concerns, you will be given an option to reschedule. If you do not reschedule your tour will be cancelled and your credit card will not be charged.
If you need to reschedule or cancel your tour for any reason, up to 48 hours before the tour, your card will not be charged giving you a 100% refund.
You can reschedule your tour any time up to the day of your tour.
If you cancel or do not show up to the tour your credit card will be charged 25% of the total price. Previously there were no refunds for a cancellation 48 hours before the tour.
These have been difficult times for everyone. For the past three months we have not been able to do any tours and we welcome this time to meet new people and enjoy our great neighborhood beers. I hope that these measures will help people consider visiting us and going on a brewery tour.
The photo was provided by Figurehead Brewery.