The Making of Beer and Ale: A Video Guide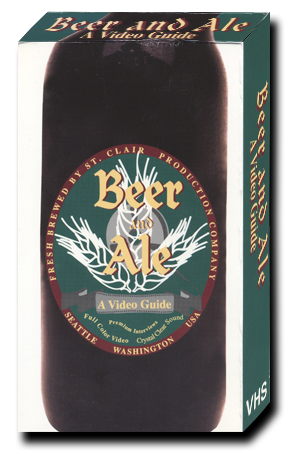 Back in the late 1980s the microbrewing Renaissance was just taking off in Seattle. It was possible to find some of the early beers like Ballard Bitters, Grant's Ale, Thomas Kemper or Hale's Ale on tap at local taverns like Cooper's Ale House on Lake City Way or find an imported pint of Guinness at Murphy's Pub in Wallingford. I remember going to Redhook's first brewery on Leary Way NW, knocking on a side door, slipping the guy who opened the door five bucks and getting a six pack of Ballard Bitter. Traveling outside of the Northwest was painful because it was impossible to get a good beer. During this time, I was working as a television producer for the University of Washington and decided to combine my vocation with my avocation.
Around 1990 I teamed up with David Golden, a talented screen writer, and we set out to produce an educational guide to beer for the VHS video market. One of the first people I met was the owner of Merchant Du Vin, Charles Finkel. He had recently opened Pike Brewery Company under the Market on Western Ave and seemed to know everybody who was anybody in the Northwest brewing world. As we started writing the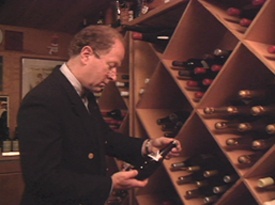 script Finkel, was an invaluable asset and a great resource. For example, he convinced the great Michael Jackson (beer guru, not the pop star) to record an opening for the video. The bar where we profile each of the beer styles for the program was the bar inside the Merchant Du Vin offices. Who has a bar in their office? Charlie did! The reason the beers look so great in those shots was because Finkel's assistant, Ian McAllister, kept re-pouring beers till each glass had just the right amount of foamy head and a nice, thirst quenching look. Next to the bar was a big bucket of discarded beers that did not make the grade. I could not have made this video without Charles FInkel's help.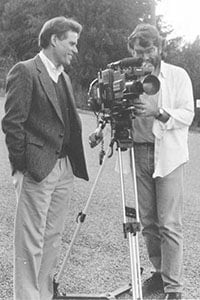 Next, we hired a good-looking young man as our narrator. He had the best showbiz name that was actually his real name. Mark Sparks did a great job and got to drink a fair amount of beer on our shoots. At the same time, I was doing some editing for a production company called Small World Productions. We were working on the first couple of seasons of Rick Steves Travels in Europe. In fact, all the footage from Europe, the German Beer Gardens, the English Pubs and the Irish taverns came from these shows. I rented Small World's broadcast quality camera for most of the shoots for the program. I hauled it to the barley fields of Eastern Washington, the hop farms near Yakima, and to Highland Games in the Cascades. One shot of a pristine mountain creek took me all day to find. After driving up an old lumber road in a remote part of the Cascades I climbed down into a steep gulch to get the shot. I barely made it out before a surprise thunderstorm turned the stream to a raging river.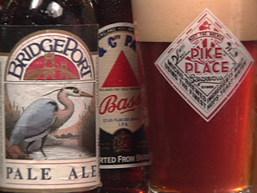 I visited and interviewed brew masters at breweries in Poulsbo, Kalama, Yakima, Seattle, Portland and Eugene. Whenever I could, I took along my friend Tom Speer, a great videographer from KCTS-TV, to shoot. Another friend of mine, Tim Keefe, ended up gripping on a lot of the shoots and the only way he was ever paid was with beer. He never complained.
Denny Gore, a great musician and composer from Gig Harbor, was composing all the music for the Rick Steves shows as well as other programs on KCTS. I told him what type of music I was after and he provided some great background music. I'm not sure if you noticed, but the opening is my homage to the opening to David Lynch's Twin Peaks. It was the hottest show on television that year and I asked Denny to score opening music in a similar mood. I'm not sure how well I did. Twenty-five years later it seems kind of slow.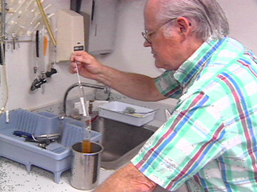 During the course of shooting the program I got to meet some of the pioneering brewers in the first wave of the craft brewing renaissance. One of the highlights was going out to Yakima and interviewing Bert Grant. I remember him opening his desk drawer and pulling out a couple of bottles of his Scottish Ale, he didn't like them cold. He told me that if you make any beer cold enough it would be drinkable, only a good beer could be enjoyed at room temperature. Michael Jackson was another coup. We recorded his introduction to the video at Pike Brewing Company. Now I wish I had been able to interview him, but he was on a tight schedule and he did our introduction in one take.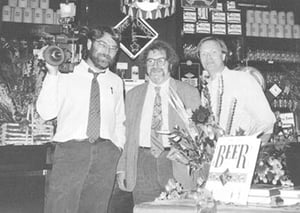 The program was meant to be evergreen, that is TV talk for not going out of fashion. Our goal was to present the traditional beer styles, a stout was a stout and that was not going to change. I think we did a pretty good job with that. But there were some things we did not foresee. For example, IPA's rated just a passing comment in the discussion about Ales. Who knew that IPA's were going to be so dominate and would spin off so many sub-styles? We could do an hour now just on IPA's. It was hard to anticipate how innovative and creative craft brewers would become and how receptive and sophisticated the beer drinking public would become. For example, we had a section on Belgian beers, it is actually one of my favorite sequences, we videotaped it in Charles Finkel's "Beer Cellar," but we never mention sours, and now entire breweries are dedicated to sour beers. The world of beer is so vast and ever-changing, even twenty-five years ago, that we never really pretended that we could cover everything. But I think we did a pretty good job at covering the basics.
I have been cutting up the old hour-long program into short segments on various topics and beer styles. They are available here and on our YouTub Channel. I hope you enjoy them and find them useful, even after all these years. Feel free to share the videos with your friends and let me know what you think.