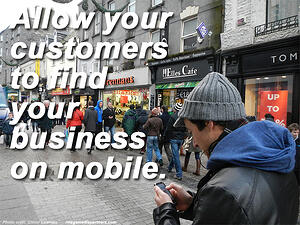 Last week I had an opportunity to speak to a group of local business people at an event sponsored by Discover Burien. Burien is a small town just south of Seattle and most of the businesses were local brick and mortar shops looking for strategies to compete during this year's shorter holiday season. My given topic was social media but when I got right down to it I should have devoted the entire thirty minute talk to mobile marketing. (Download the slides for this talk and other resources) It's not that social media is no longer important, but when people are using social media, especially while shopping, it's on a mobile device. Worry about mobile first, then worry about your social media. Why? Well, according to research done by the Google Shopper Marketing Agency Council and M/A/R/C Research smartphones are transforming the way people research products and shop. (Download: Mobile In-Store Research: How in-store shoppers are using mobile devices). It does not matter if a shopper ends up buying a product on an online store or they get in their car and drive down to the local store most shoppers start their research online and for the first time ever more are using a smartphone. In the USA 48% of the people use a desktop PC while 56% use a smartphone. Online research and using smartphones while shopping are now common.
If you are a local business you must now compete not only with large national "big box" stores but also online stores. This infographic lays out the top 10 reasons why your local business MUST embrace mobile marking this holiday season and beyond.

Download the infographic.
It's time to embrace mobile use in your store. Improve the online experience for your customers as well as the in-store experience. Make it easy for shoppers to find your store online, get information and find promotional offers. Understand how your customers are finding you. Mobile marketing is no longer an option so have a mobile strategy for your business. What are you doing to prepare your business for mobile marketing? Sign up for a free Local Mobile Marketing Evaluation from Image Media Partners.