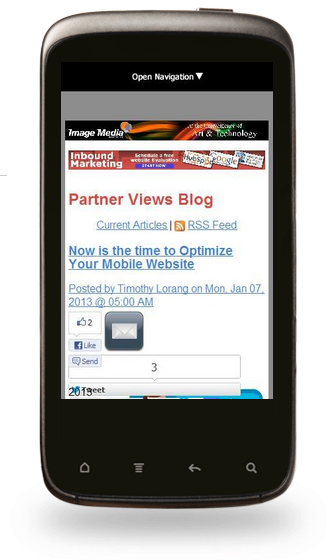 This blog will be short because it's Friday and I know you will want to spend all your time testing out your mobile website. One of the best tools for testing your website is Google's How to GOMO Test Your Site tool. It could not be simpler to use. Just put your URL in and press the "test" button, choose your business category and answer a few simple questions about the site. In a few seconds you will get an analysis based on the 10 best practices I covered in my last blog.
If you are already on a platform like HubSpot or are using a WordPress theme optimized for mobile this is a great way to take a closer look at how your site looks and operates for mobile.
When I tested my site I indicated that I was a publisher and my only dings were that my blog site loaded in 6.09 seconds instead of the optimal 5 seconds or less and I should have a search option available. But if my goal was to do online sales I would need to work on the conversion and accessibility aspects of my site. Test your web pages for different functions and think about how people use your site. It is possible to check any page on your site and see how the page lines up with your marketing goals. For example pages with lots of content or big graphic files will be slower. Go on line now and see how your website stacks up.
For more information from Google about the importance of mobile websites visit Mobilize your site now. You may also want to check out our mobile website services.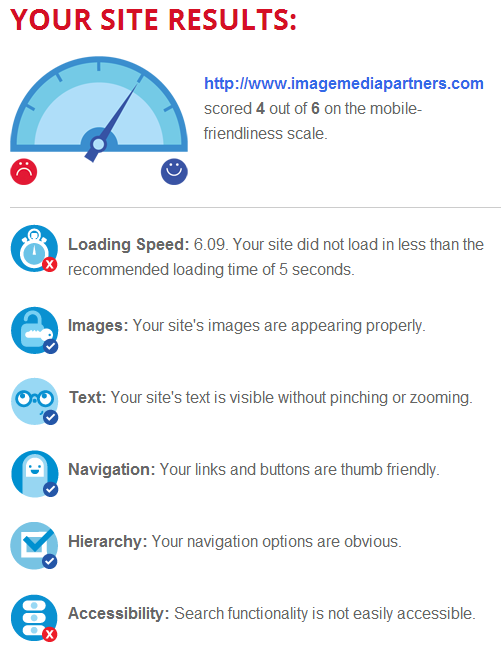 Images: Google