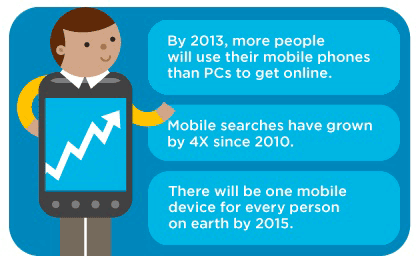 2013 should be time to take the plunge and optimize your web site for mobile, especially if you sell products online, you have information that people want to access through their mobile device or if you have any type of local business. It is not that you are preparing for the next phase of internet marketing; your customers are already there. Consider these statistics from Google:
You need to catch up because you are turning customers away with a bad mobile experience. Consumers expect their mobile experience to be as good as their desktop experience when they visit your site.
What will happen when your customers have a bad mobile experience? Well, you'll lose customers.
Everybody is talking about mobile apps but most people still prefer to shop on a mobile website.
Businesses can drive sales and purchases with a mobile-friendly web site.
If you are still not convinced take a look at this short video from Google: The Time for Mobile Is Now.
If you are already on a platform like HubSpot or are using a WordPress theme optimized for mobile you may already be set but it would be a good idea to take a closer look at how your site operates for mobile. If you do not have the capability of optimizing your website check out the free mobile landing pages on Google or our mobile website services.
Image: Google