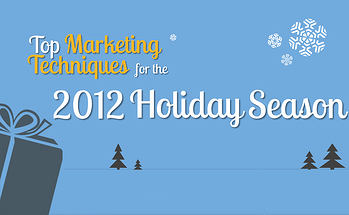 Last week I wrote about 20 Tips for Using Google AdWords Effectively for the Holidays and today HubSpot came up with a great infographic for the Top Marketing Techniques for the 2012 Holiday Season. What are the big marketing trends?
Mobile Marketing
It should come as no surprise that online marketers are embracing mobile in a big way. There has been a big leap in the use of mobile marketing from promoting in-store Black Friday deals to mobile optimized websites and mobile advertising. Yet one third of ecommerce sites will link to non-mobile optimized landing pages!
Email Marketing
Email is still a great way to get the word out about your brand and sales. Email was successful in 2011 and 92% of marketers are planning to increase or maintain the same level of investment in email marketing.
Social Media Marketing
Social media continues to grow as a venue for marketers to get the word out to their fans and followers. Predictably Facebook is a big part of this but Pinterest and Twitter are making big gains.
This infographic gives a great overview of what marketers are doing this season. For more info check out HubSpot's holiday marketing factbook. Let me know what kinds of holiday marketing you will be doing this year.

Top Holiday Marketing Techniques for the 2012 Holiday Season