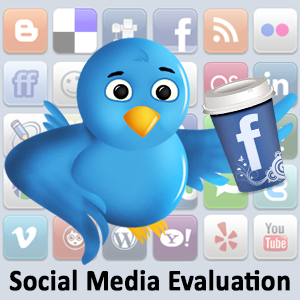 In my last couple of blogs I talked about doing a Social Media Evaluation to Achieve Your Marketing Goals and how to Do a Social Media Evaluation Like a Social Media Guru. Both these blogs start from the assumption that you are already doing some type of social media. How do you evaluate your social media efforts if you are not doing any social media? Maybe you are starting a new business or you have come to the conclusion that this social media stuff is not a fad and you need to get started. Where do you start and what social media accounts should you use? You can fairly quickly get an idea of where your company or organization fits in the social media world and where you should start by conducting an easy social media evaluation.
Search for User Generated Content: There is a good chance that no matter what type of business or organization you have someone is talking about subjects you should care about. This could range from hobbyists and fans talking about their passions to people complaining about a service or a product. Use tools like Google Alerts, Twitter Search and Netvibes to find out what people are talking about. Are these people active on any social networks? Are these conversations going on in Twitter or Facebook fan pages? How many people are involved?
Search your industry, product or service: Use the same tools to search keywords, company names, product names and locations and see what is going on in your area of interest. If you don't know what keywords to use then try Google's Keyword Tool to get suggestions from your website or industry.
What are your competitors doing? Visit your competitor's web pages and see what social media platforms they are involved in. Look at several competitors and compare them. If one competitor has 50 Facebook fans and the other has 1,000 fans study what the successful page is doing. Take a close look at their followers, how they interact and what social media platforms they are on.
What type of content is posted? Are your competitors sharing blog posts, white papers and videos or are they promoting events, sales and coupons? This will give you a good idea about the types of activities that would be good for you. Note if the content is curated or created. Created content is usually made by the company and can include eBooks, white papers, and videos. Curated content will be valuable to your followers but will come from someone else. Curated content is a great way to engage your fans, give them value without having to produce your own new content. If you tweet about this blog you are using curated content, if I tweet about it I am using created content.
What Platform Makes Sense? Seeing what others in your space are doing is a great way to see what social media platforms would be best for you. Not every social media platform is created equal and some fit in better with certain types of businesses and organizations than others. You will need to see what works best for you but in a very broad sense if you have a product to sell concentrate on Facebook, YouTube and Twitter. If you have a brick-and-mortar location try Foursquare, Yelp, Facebook, Google Places and Google +. If you provide a service concentrate on your website and blog, Facebook, LinkedIn and Twitter.
One thing to keep in mind when you are doing your social media evaluation is that nothing is written in stone. Some organizations do well on one platform while their competitors fail. Look around and see what is working and experiment to see what works for you. It is more important to find a platform that you will get involved in than to set up an account and let it languish. If the idea of Facebook is repugnant to you then spend your time on LinkedIn or Pinterest but do not just jump in blindly. Conduct your social media evaluation and make your decisions based on what is working. If you are still not sure about doing this yourself contact us for a free social media marketing evaluation, even if you are not now doing any social media. If you would like to share what you learned from your evaluation let us know in the comments below.