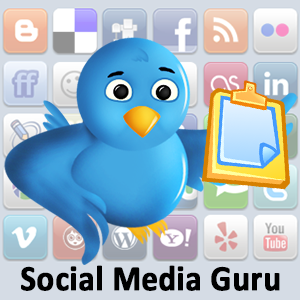 Now that you have listened to everyone's advice and set up your Facebook page and started tweeting how is it going? Perhaps you are one of those who set up a Twitter account four years ago and still only have 20 followers. How can you get your social media marketing moving? It may be time to conduct a Social Media Evaluation and see how you are doing and where you can make improvements. Most of us working in social media marketing have a quick check list that can help us quickly tell how an organization is doing and lets us know what we can do to help. Without further ado I'll tell you what Image Media Partners does during a social media evaluation.
Social Media Website Presence: Your social media account buttons should be at least on the first page of your website, even better if they are on every page. They should be above the fold so they can be seen when someone first navigates to the web page. The buttons should be easy to find and should go directly to your accounts. You don't need to have Facebook or Twitter streams embedded in your web page but it does show others that you are involved in those platforms. You should have social media share buttons on content pages such as your blog.
Completed Profiles: The profiles for all your social media accounts should be completed with up to date contact information and links. All the major platforms give you an opportunity to brand your social media accounts and you should take advantage of this.
Followers: What is the number of followers for each platform? There is no magic number but you need enough people to make social media engagement worthwhile. Check your competitors and see how they are doing. If they have 500 Facebook fans and you have 20 it is an indication that you can be doing better.
Frequency of Posts: How often do you post updates and information? Depending upon the platform this could be multiple times a day for twitter to a couple of times a week for Facebook. If it has been weeks or months since you last posted you may want to post that you are all on vacation but you'll be back soon! If it has been years since you last posted you may want to close the account and start over. Don't let people think you forgot about them.
Engagement and Content: Are you just broadcasting or are you engaging your followers? Just sending out messages about yourself does not take advantage of the power of social media. Get involved in conversations and post information that would be of interest to your followers. For example in Twitter I follow the 10-4-1 rule: 10 tweets about useful content that is not about me; 4 tweets about useful content that I created such as blogs; 1 lead generating tweet such as tweeting about an eBook or a webinar.
Listening: Are you listening to others about your brand, organization, or industry? Monitoring tools such as Google Alerts, RSS feeds and Twitter Search that are monitored in platforms like HootSuite or Netvibes can help you respond quickly to news and comments about your brand and industry. You should be monitoring for content you can share, comments about your organization you can respond to and listening to your competition.
Tracking Analytics: Are you measuring the affect and success of your social media efforts? Do you know what social media platforms drive the most traffic to your website? Do you know what social media marketing campaigns are the most successful? At the very least you should have Google Analytics and Webmaster Tools set up so you can see if web traffic is coming from social media. For more advanced tracking use tools like HootSuite and HubSpot to get a more detailed picture of how social media is helping your bottom line. For some more information on this topic see my last blog on using your Social Media Evaluation to Achieve Your Marketing Goals.
After going through this list I can have a general idea about how well an organization is doing in social media and where they need to improve. In my next blog we'll look at how to do a social media evaluation if you do not have any social media accounts. If you are still not sure about doing this yourself contact us for a free social media marketing evaluation. If you would like to share what you learned from your evaluation let us know in the comments below.