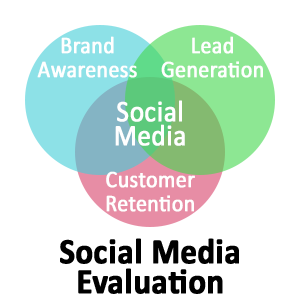 Your social media marketing plan means nothing if it is not aligned with your marketing goals. Measuring the effectiveness of your social media marketing plan not only gives you your social media ROI (return on investment) but tells you if you are meeting your marketing goals. (For a detailed method for calculating your ROI read ignite's Social Media Blog: Calculate Social Media ROI with Ignite Social Media's Purchase Equivalency Calculator.) Social media marketing is an important part of inbound and online marketing but it is useless if it does not support your organization's goals and its effectiveness is unknown if it is not measured. When you conduct a social media evaluation for your organization you need to understand your goals. Traditional marketing, as well as social media marketing has three marketing goals that can be measured.
Brand Awareness
Brand Awareness is often measured by the size of the audience, how many eyeballs see your brand. In the good old days this meant trying to measure how many people saw your commercial on TV or how many people saw your ad in the newspaper. With social media it is possible to be a bit more exact although there are still some fuzzy numbers here. For example Facebook will show you how many people saw a post on your business page and you can see exactly how many people played a video on YouTube. Google AdWords will give you an exact number of how many times your ad appeared in a search, even if it was not clicked. Twitter estimates that 25% of your followers will see any one tweet you send out although you may want to use a smaller number. To achieve your brand awareness marketing goals build an audience through platforms like Facebook and Twitter and post frequent updates.
Lead Generation
Social media can contribute to capturing lead information or converting a sale. But it may be tricky to measure how social media contributes to lead generation. Here it is important to measure click through rates from your social media campaigns and track the conversions generated by social media. There are a number of ways to do this. For example Google Analytics will show you the source of web traffic to any page on your site. It can show you how much traffic came from Facebook, and how much traffic came from Twitter and how much traffic from search engines. To measure what traffic came from which tweets or posts you need to generate a specific tracking URL that you attach to your social media campaign. By using free tools like Bit.ly or using the built in tracking tools in HootSuite or HubSpot you can measure the effectiveness of individual tweets or posts in much the same way as Google AdWords tracks click through rates. In this way you can measure the effectiveness of specific social media platforms, specific campaigns and even specific posts.
Customer Retention
Social media can also play a role in engaging customers by keeping them informed with updates on platforms that your customers join such as Facebook and reaching out to them in the social media channels where they are active. Because your customers opt into liking or following your organization on platforms like Facebook, Twitter, LinkedIn or Foresquare these platforms are a natural choice for customer engagement. But not everyone chooses to follow, especially if they end up making negative comments about your organization. Monitoring the different social media channels for your brand or organization is a great way to stay on top of what people are saying and to respond to them quickly. Setting up listening posts in Google Alerts, monitoring Keywords in Twitter or following RSS feeds is a great way to engage others whenever your brand or company comes up. Tools like HootSuite let you aggregate and monitor all those listening streams from multiple social media platforms in one place. Many CMS systems like Salesforce help you find the social media platforms where your customers are active. HubSpot has ways to not only identify a customer's or prospect's preferred social media platform buy ways to segment those lists and engage them.
When you conduct a social media evaluation it is not enough to catalogue your platforms and count the number of followers. You need to evaluate how social media aligns with your marketing goals. Whether you are doing brand awareness, lead generation, customer retention or some combination of all three you need to determine what you are doing and how you are measuring success.
If you are interested in improving your organization's social media marketing, contact us for a free social media marketing evaluation. If you just want to get started today you may want to get your own free HootSuite account or find out how we can help with a HootSuite Pro Solution. Let us know about how you use social media marketing in the comments section below.