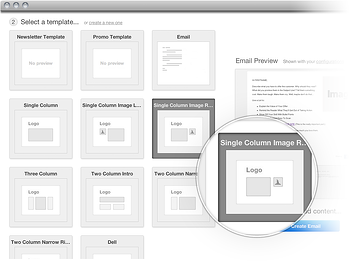 In Monday's blog I started to tell you about some of the improvements HubSpot has made to its email program that I really, really like. The trouble is that there are so many cool new features that I barely got through three of them in my last blog. One area where HubSpot has made some major improvements is in its email editor and templates. A lot of email programs have had a large variety of email templates. HubSpot has finally caught up. Not only does it give you a lot of choices for layout once you've input your basic company information like your logo, address, and primary domain, you don't have to worry about doing it again. Just pick the template you want and start making your e-mail. If you really like to get deep in the HTML code and tweak this or that HubSpot provides an editor to do just that.
A Half Dozen Cool Features for HubSpot's Email Marketing Program
Email editor: Once you start editing an email, HubSpot takes you step by step through the process. When you get to the end it will let you know if you skipped a step and it won't let you send or schedule the e-mail without fixing it. No longer will you be able to send an email out with a missing subject line.
Preview and send tests: In the past, when you were editing an email in HubSpot and you wanted to see what it looked like you needed to save it, go to a preview page, then send test e-mails. Now there is a preview thumbnail on the right side of the screen. If you want to see what it looks like on a webpage just click "Show Preview." Do you want to see a copy in your email inbox just click "Send a test email." If you don't like the way things look and you want to try another template just click "Change template." You get the idea; previews are just one click away.
Social Sharing Buttons: I have always tried to include share buttons in my e-mails so that when clicked they sent special messages like: "I just got a great Newsletter from Image Media Partners," that posted to Twitter or FaceBook. This involved writing code and embedding it into the email, usually under a social media button. This was a huge hassle because half the time if you had an extra space or a spare comma in the code it just would not work. I often spent more time fixing the code than I spent writing the email. Now you can choose to turn on any of three social sharing buttons for Facebook, Twitter and LinkedIn. You can pick what web site or URL you are sharing and set it so they all point to the same page or to different pages. You can even point them to the newsletter by using the "View In Web Option", see point 5. My only complaint about this feature is that even though it is easier than writing my own code it is not as flexible. For example I could write code that posted to Facebook saying: "I just received this great email about XYZ from Tim." Now I'll have to rely on the person sending the update to Facebook to write that message. One trick you will be able to do for Twitter is use clicktotweet.com to set up your email message then cut and past the generated URL into the twitter field.
Plain Text Editor: This is another feature that HubSpot had before and most good email programs have but it is just a lot simpler. It's on the same page as the other edit functions and you can generate the plain text copy with one click. The only flaw I've found is that not all of the URLs are coming over from the HTML editor to the plain text version. I'm sure this will be fixed soon. Just be sure all of your URLs are there and in the right place for your plain text email.
View in web option: Just below the plain text editor is an option to show the email on the web. When someone gets the plain text version of the email they will see an option to view the email in a web browser. This is a feature that other email programs, like MailChimp have had and it's great that it is now available in HubSpot. Of course there are a couple of added features and benefits that make it even cooler. You can set the email to dispaly on the web in a sub-domain on your website to host these web based emails and get SEO credit or choose HubSpot to host it. The editor gives you the option to put in a page title and a meta description. Remember your keywords. Then you can take this URL and put it in the social media sharing buttons described in number 3. You can also take this URL and put it in your Facebook or Google+ pages so your e-mail or newsletter is shared and has a wider audience not on your email list.
Email Clone: One flaw in HubSpot's old set up that used to drive me CRAZY was that I was not able to clone an e-mail. Every once in a while you just had a layout or a newsletter that just worked and now, instead of rebuilding the same email again from scratch, just select it and click "clone." Make your changes and hit "send."
There are a lot of other features to the email program and these are just a few that I'm excited about. If you are interested in learning more about HubSpot and inbound marketing contact us for a customized inbound marketing assessment of your website. Are you already using HubSpot? Let me know what you think of the new features.
Illustration: HubSpot