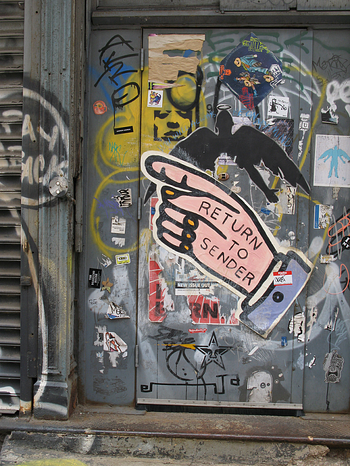 In spite of the rise of social media and other forms of online marketing, email is still a valuable inbound marketing tool. In fact, according to a recent study by DMA 75.8% of marketers said they were using more email now than they were three years ago and the investment in business email marketing solutions continues to grow. The fact is that effective email marketing is a great way to engage and nurture your prospects and is an important part of inbound marketing. But there are a number of email marketing mistakes you can make that will backfire and make you look dumb.
Buy a third-party email list: If people have not voluntarily signed up to receive email from you they will not be happy getting unsolicited emails. Harassing prospects is the opposite of the ideals of inbound marketing and you have now joined the ranks of the spammers. Recipients will ignore you, unsubscribe or report you and you could get blacklisted.
Hide your subscribe box: if your visitors don't know they can sign up for your emails or newsletters they won't. If web visitors want to sign up don't make them search. Make it so your blog readers and website visitors can easily find your subscribe box. Off site, if you ever do any public speaking pass around a sheet of paper and ask people to sign up and let attendees of your online webinar know how they can sign up for your email list.
Sending too many emails: If you send your email recipients valuable information they can use every day then a daily email is not too frequent. If you send useless information or annoying "look at me" emails daily you will soon see your unsubscribe rate go up. Do not overdo it.
Sending too few emails: If your email recipients are not used to seeing your name in their inbox they may send your semi-annual email to the junk file. There is no magic answer to how often you should send emails. If possible, survey your recipients about how often they would like to hear from you. Do some frequency tests with segments of your list and compare the unsubscribe rates and open rates to come up with an email frequency pattern that works for you.
Sending useless information: There has to be a reason for your subscribers to open your email. If the emails are consistently about "buy this" or "follow me" then you are going to lose readers. Give them information they can use, resources they need or a coupon they can redeem.
Not segmenting your audience: Not all of your messages are for all of your subscribers all of the time. This is especially true if your business provides different services or products for different types of customers. For example, would you send retirement investment opportunities to a recent college graduate burdened with student loans?
Not including Calls-to-Action: Well, your subscriber may not notice but you would be dumb just the same. For an inbound marketer a targeted email is the perfect opportunity for a call-to-action. The call-to-action could be as simple as a link back to an appropriate blog post on your website or an offer for a free estimate or consulting session. If you don't ask they will never say yes.
Because email is such an important part of inbound marketing I am very excited about the new email and marketing automation improvements being made for the HubSpot platform this month. As you know, Image Media Partners uses the HubSpot platform and is a partner. It is of course possible to be an awesome inbound marketer without HubSpot but few other platforms integrate all the aspects of inbound marketing into such a concise, easy to use package. For more information contact us for a free, customized inbound marketing assessment and ask us how we can set you up for a free trial of HubSpot.
Photo Credit: Evan P. Cordes