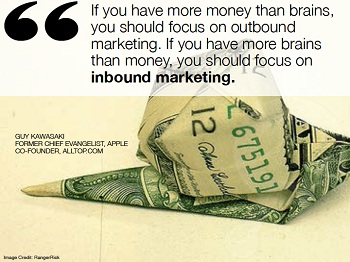 In my last blog, Costco's 7 Rookie Inbound Marketing Mistakes, I responded to an article by Mellissa Allison in Sunday's Seattle Times entitled Costco makes plans for boosting its online sales. One of the things I noticed right off was Costco's "Big Business" approach to their online problem. According to the article, Ginnie Roeglin, senior vice president of Costco's e-commerce and publishing operations, said the chain does not appear in searches partly because "we don't advertise and we don't pay for search." Costco is also "exploring social media but has not dedicated much money or other resources to it, because it is focused on Costco's core business and keeping costs down." Costco will also be building mobile apps to help shoppers.
The "Big Business" approach is the idea that all marketing issues can be solved by money. Well to be completely frank, spending a lot of money can solve a lot of problems but that is often not an option for medium and small businesses. On the other hand a small business or organization may not need 15 million web visitors next year to get enough business to prosper. As one associate told me recently, he needs ONE more client this year to be profitable. It is more important to get the right traffic then a lot of irrelevant traffic. Inbound marketing gives medium and small businesses an excellent way to drive the right kind of traffic, get leads and convert those leads to customers at a minimum cost. As Guy Kawasaki, former Chief Evangelist for Apple and co-founder of ALLTOP.COM says in the above illustration, "If you have more money than brains, you should focus on outbound marketing. If you have more brains then money, you should focus on inbound marketing."
Since you are probably not Costco my advice would be to not spend money and concentrate on inbound marketing. You don't need to do everything at once, just pick one or two things to start from and build from there. Here are a few suggestions: (The following statistics come from research by HubSpot and presented in our eBook: Lead Generation Lessons From 4,000 Businesses.)
Blog: Blogging is the easiest and fastest way to get page rankings and drive traffic to your website. Businesses that blogged at least 20 times per month had 5 times more traffic and 4 times more leads then those who blogged less.
Web Pages: Increasing the number of web pages, either through blog posts or other content, helps your website get found. Sites with more than 400 pages had 9 times more traffic than those with fewer than 100 pages.
Landing Pages: Websites with more than 40 landing pages get 12 times more leads than those with only 1 to 5 landing pages. Give your visitors valuable, free content in exchange for their name and e-mail address. Now you have an opportunity to nurture your leads and convert them to customers.
Social Media: Engage with your potential customers on the social media platforms they frequent. Businesses with over 1,000 Twitter followers had 5 times more leads than those with 1 to 25 followers.
Inbound marketing does take time and it does take commitment but it also levels the playing field for small and medium sized businesses. You don't need an angel investor or an influx of cash, just some time to invest in your blog and online content. If you have wondered about how well your website is set up for inbound marketing then contact us for a free customized, website evaluation.
Photo: Ranger Rick