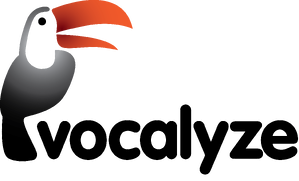 Recently I added the Vocalyze widget to my web site. This is a bit of text-to-speech streaming technology that translates my written blog into an audio stream. You can see it on the right side of this page, it's the little toucan icon under the words "Vocalyze It." Give it a try; just click the link that says "Listen to blog articles."
I was a bit skeptical at first. I thought it may sound too robotic. I thought if I was going to have an audio version of my blog I should just record my own blogs and post the audio files. I thought I didn't have time to install and deal with one more thing on my website. But then I got a message from my friend Sindi Lindberg telling me that I should try Vocalyze, that she listens to blogs in the car and it is great. So I thought I would give it a try and this is what I learned.
Easy installation: I use HubSpot for my website and Vocalyze is one of the standard widgets. All I had to do was choose Vocalyze in the App Marketplace then cut and paste some HTML code into a content module. The instructions were very clear and straight forward and it took just a few minutes and it was done. You can visit the Vocalyze website to get the HTML code for the widget and install it on your website. If you have Wordpress you can download the Vocalyze WordPress plugin here.

Easy to use: If you are listening to this now you already know how easy it is to use. A reader just clicks the link and the player is launched. Not only that but all of my blogs are now ready to play.
Sounds Good: All right, I don't think I would want to listen to Shakespeare on Vocalyze, but I'm not Shakespeare, I'm just a blog, and the voice-to-text, while a little mechanical, sounds great. The voices used alternate between and man and a woman's voice to give some variety while you are listening.
iPhone and Android Apps: Listeners can download apps for their mobile devices and listen anywhere. They can add your blog to their favorites and listen to new material whenever you update your blog. Download the iPhone App here, or the Android App here.
Variety for Listeners: I doubt if anyone would install an app just to listen to my blog. However, when they install the Vocalyze app they can choose content from over a dozen categories including News, Sports, Business, Technology, Food & Wine and the Weather. The content sources include CNN News, Mother Jones, The New Yorker, the Onion, Sports Illustrated, NY Times Business, Huffington Post, Mashable, National Geographic, Food Network, CQ and hundreds more.
Listen to Twitter: You can even program your favorite twitter streams to listen to Vocalyze while you are on the go.
The fact is that I was never going to get around to recording all of my blogs and even if I did no one would have taken the time to download my audio files and put it in their playlist between Martha Steward and the Wall Street Journal. Now maybe they might. Try it on your blog and give it a test. If you don't have a blog then download the app or go to Vocalyze and find out more. You can add Image Media Partners' blog to your favorites list at Vocalyze Content Suggestions.
Tell me what you think in the comments section below; I'll be interested in hearing what you think.