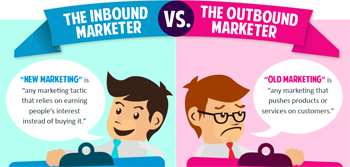 Regular readers of Partner Views Blog know that we are proponents of Inbound Marketing as opposed to Outbound Marketing. In fact a major part of what we do with our clients is helping them set-up and manage the different aspects of Inbound Marketing. We do much of this through the HubSpot inbound marketing platform, managing social media and mastering new technologies such as QRCodes and mobile web pages. One of the main reasons we do it is because inbound marketing cost 62% less per lead then traditional outbound marketing. It is something a small business or organization can master and succeed at without a large upfront budget and it is easy to track success and manage.
Recently Voltier Digital published a great infographic illustrating the difference between Inbound and Outbound Marketing. This chart outlines if a few illustrations why I think inbound marketing is so valuable for any business. Take a look and let me know what you think.

If you would like to know more about Inbound Marketing and what Image Media Partners can do contact us for a free inbound marketing evaluation. Let us know what you think of the infographic in the comments below.
Contact
Image Media Partners

for a free

Inbound Marketing

Analysis.

Learn about

QR Codes and

Mobile Web Pages