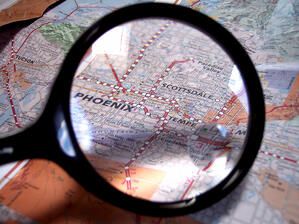 Most businesses now know that they should be listed on Google Places so they turn up on Google map searches. If you haven't already claimed your Google Places you can download my guide: Claiming your Google Places. But that is not all you can do with Google Maps to help promote your business. For example you can make a map that pinpoints multiple businesses or locations, and then embed on your website, link to it on Facebook or Twitter, or send it in an email. The best part is you can edit the description of the map's locations that can include links back to your website.
Why would you make a special Google Business Map?
I've been building Google Maps for a while but the full power of what can be done has only just started to dawn on me. While I realize that this may not be valuable for every business any business that operates in multiple locations or interacts with other businesses will find this useful.
Promoting Multiple Business Locations: If you have a business with multiple locations Google Places requires that you make a separate listing for each location. On a Google Map you can make one map that has all of your business locations. Embed this on your website so everyone knows the locations of all your businesses. I am starting a project with an amateur sports league and we will be building a Google Map with the locations of all the fields the league uses.
Multiple Location Events: Recently I was working on a fund raiser with a community health clinic where for one day over twenty restaurants and bars were donating their profits to the clinic. We made a Google Map that listed all of the businesses, then made a QR Code that linked to the map. This QR Code was then printed on posters and table tents so participants could get the map of all the participating locations on their mobile phone.
Working with Multiple Businesses: My newest client, Weddings by the Sea, performs weddings in Ocean Shores, WA but they don't have a chapel. Rather, they perform ceremonies at several beach locations as well as at different hotels, resorts and inns around Ocean Shores. When I set up their map I pinpointed each location. In the description for each location I included important information, described what ceremonies they could perform and put links back to the website.
What makes this possible is that when you are in the edit mode you have the option of entering "plain text," "rich text," or "HTML." Chose "rich text" and you can format the text and but in hyperlinks. This gives you an location on Google to connect back to your website while giving your customers valuable information about your services. In my next blog I'll give some step by step directions for making Google Business Map for your web site. If you have some ideas or examples of your own maps tell us about them in the comments section below.
Photo Credit: Cohdra-MorgueFile free photo