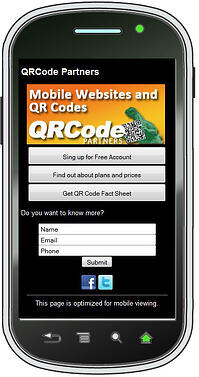 One of the frustrations that often come up concerning QR Codes is after someone scans the code the link does not lead to a useful page. Many people will link their code to their website, often their home page, while others will link to their personal contact information or to a social media page like Facebook. This strategy can be a bit limiting. For example, if the code only links to your Facebook page the QR Code serves no purpose after the person has scanned the code and "liked" you on Facebook. If the QR Code is linked to your home page what do you want people to do when they get there? Is your home page optimized for a mobile device? Even if it looked great on a mobile device it may not be an effective landing page.
Treat Your Mobile Site as A Landing Page
QR Codes are part of your total marketing plan and you should treat your mobile webpage like a landing page. Ask yourself what you want someone to do after they scan the code. At the same time ask yourself why someone would scan the code in the first place. For example we know from research on QR Code usage that 87% of consumers would scan a code to get a coupon, 63 % to enter a sweepstakes and 63% access additional information. People will not scan the code for the novelty of it.
Mobile landing pages are very similar to any landing page:
Make the call-to-action clear: Let people know what will happen if they scan the code. They can get a coupon, they can enter a contest, they can get information, or they can sign up for a newsletter. Be creative.
Make the mobile page clear and simple: People will be looking at this on their phone so this is no time to get fancy. Keep the text to a minimum and the graphics simple. Have clear, easy to navigate buttons that lead to the desired action.
The mobile landing page is a link: Normally landing pages serve one function such as sign up for this or download that. It may not be practical to make new QR Codes for each new function so keep your mobile landing page dynamic and flexible. It's not too difficult to put a couple of functions on the mobile page, such as "Get Coupon," "Click to Dial Phone," "Like us on Facebook," or "Play Video." In this way you can update the coupon or the video without redoing the QR Code and building a new mobile landing page.
The important thing is to think what you want people to do after they have scanned your code. I have a few Mobile Web Page and QR Code Campaign examples I made on a new platform that is now available through Image Media Partners. If you don't give people a reason to scan your QR Code they may not scan your second QR Code.