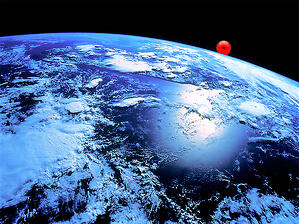 During the past couple of weeks I've been mining data from The Social Media Report, Q3 2011 by The Nielson Company. We've been looking at data that shows us why we should have a Social Media Marketing Plan, why we should pay attention to our Customer's Profile, and some Hot Trends in Mobile Social Media. The report also shows us why we need to pay attention to our local internet marketing. According to Nielsen's study 60% of Smartphone owners have downloaded Social Networking Apps and 55% have downloaded Map, Navigation and Search Apps. The most valued feature on a Smartphone is the GPS device. This means that Active Social Media Users are using the location tools in their smartphones to find local businesses and to tell others in their social networks about them. For example when an Android user selects the maps function and searches for "coffee" (one of six standard searches along with Restaurants, Bars, Attractions, ATM's and Gas Stations) they get a listing of the coffee shops listed in Google Places near their location. When they click on the listing they can get directions, call, add a photo, rate and review it, share it or look for another business. This information alone should prompt every location based business to claim their Google Places but is there anything else they can do? As it turns out even though Google is the most popular search engine and Google Places very powerful it is not the only game in town.
Yahoo Local: This is a lot like Google Places in that it is tied directly to the Yahoo search engine but it is not connected to a local area map although it does show your business on a map. Yahoo has a basic free listing and an "enhanced" listing for $9.95 per month. In the free version you can list contact information, hours of operation and products or services. The enhanced version lets you add a logo, photos and a detailed description. Yahoo also integrates reviews from different social networks. To set up your Yahoo Local Business go to: http://listings.local.yahoo.com/. You will need to set up a free Yahoo account.
Bing Local: Bing is a lot like Google Places and is tied to the map feature in Bing search. You can claim your business or create a new listing. You can list categories and customize your listings with logos, photos and more. The listing is optimized for mobile phones and you can even create a mobile web site with a QR Code and down load a sticker to post in your business. You'll need to create a free Windows Live account then go to http://www.bing.com/businessportal to set up your business.
Your Web Site: Don't forget to optimize your website for local search. This means putting local references on your web site, in the page titles, meta descriptions, H1 and H2 tags and in the content throughout your site including in your blogs. This doesn't mean to do Keyword stuffing, just don't shy away from mentioning your location and local events in your blogs and website. It is a good idea to build links with other local businesses, associations and organizations along with local twitter, Facebook and LinkedIn communities.
Local Citations: Use local listings and other location based social media sites. Here is a list of some of some great places to get local citations:
I would love to see how you are getting your business listed in local searches. Tell us about it in the comments below.
Photo Credit: John Jemon