Author's Note: On Monday I wrote a guest blog for the International Association of Franchisees and Dealers on "How a Franchise Should Use QR Codes." It was a bit longer than my normal blog so I've edited it a bit and posted the first half on Wednesday and this is the second half of the post.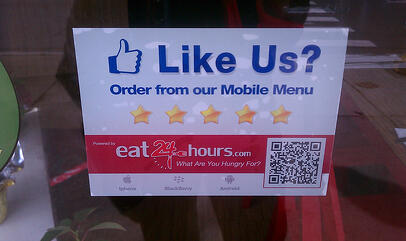 On Wednesday I covered
Using QR Codes for the Local Franchise Business,
and why a franchise business would want to use QR Codes to connect with their local clients and customers and gave some examples. Using QR Codes should not be that intimidating. There are only a few rules, or rather, best practices you should pay attention to.
Specific Destination: Any time you have a link it should be to a specific page for a specific action. Don't send people to Facebook send them to your Facebook page. Don't send people to your home page send them to a specific landing page optimized for a mobile phone.
Optimize for Mobile: 99% of all users will scan your QR Code with a mobile phone (OK I made up that number but who carries their desktop to a restaurant?) Your destination page needs to be set up for mobile phones. Facebook already is but if you send them someplace else make sure they can read your page on a smart phone.
Keep the URL Short: The longer the URL the more complex the code will become. Keep things simple and use a URL shortener. If you make a unique code on a site like bit.ly.com you can keep track of the traffic. An added plus for bit.ly is that when you add .qr to the end of any bit.ly URL it will generate a QR Code.
More QR Code Ideas
If you have not already come up with a list of uses for QR Codes for your franchise business here are a few suggests. These would actually work for most businesses.
Where to send people who scan your QR Code:
Mobile website
Google Places or Yelp listing
Menu
Store Locator
Facebook
Coupon
Sign up mail list
Helpful information:

Nutritional info
Tax Tips
Corporate site
vacation destinations

Slide show of home, cars, pizzas, shoes or whatever you are selling
Video of your business or product
Micro-payments
E-commerce site
Your phone number
Contact information
Information about product
Charity you support
Where to print QR Codes:
Business card
Poster
Front door (link to Foursqure)
Google Places
Menu
Billboard
Real Estate signs
Newspaper or Magazine Ad
T-shirt
Little League Uniform
Coupons
On food
Product packaging and labels
Laptop stickers
Table Tents
Tattoos
Catalogs
Flyers
Pizza boxes
Get Ahead of the QR Curve
Just about any place where you connect to your customers and would like to bring them into the online world is a good place to put a QR Code and any place online that you can offer value to your customer is a great place to link a QR Code. The most effective way to scan a QR Code is with a smartphone. Many detractors will point out that currently only 35% of North Americans have a smartphone but market penetration will surpass 50% by the end of the year and it is expected to grow. My advice is to get a bit ahead of the curve and be ready. QR codes can easily fit into most marketing plans and it will pay dividends. A quick side note to local printing franchise owners, if your customers are not already asking you to print QR Codes they soon will be as the owners of
Sir Speedy
found out.For more information about QR Codes and how to use them you can download this
QR Code Check List and Fact Sheet
or visit the
QR Code Resource
page on this website. As I mentioned the other day Image Media Partners has started a new service to help small and medium sized business that want to get started in QR Code marketing. It is very flexible and affordable. Take a look at our
QR Code service plans
and let us know if you have any questions. I would be very interested in hearing about your experiences or questions concerning QR Codes in the comments section.
Photo Credit: Sierra Tierra