Author's Note: On Monday I wrote a guest blog for the International Association of Franchisees and Dealers on "How a Franchise Should Use QR Codes." It was a bit longer than my normal blog so I've edited it a bit and posted the first half below and I'll post the rest on Friday.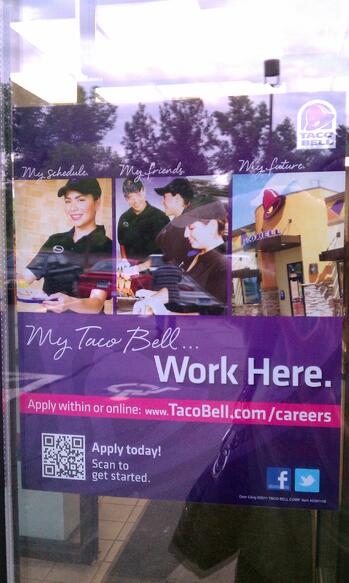 There has recently been a lot of buzz about
Taco Bell's
QR Code
promotion with MTV
. This is often pointed out as a great example of a fast food or franchise business using QR Codes but my impression is that most franchise business owners are local business people and the Taco Bell-MTV promotion is a better example of two national brands teaming up on a national campaign. I think their use of QR Codes is inspired and this campaign will do a lot to help make the general public familiar with QR Codes but it doesn't do much to show franchise owners what they can do on the local level. If at this point you are not familiar with QR Codes please read some of my
blogs on QR Codes.
Even though many franchise owners may own more than one franchise location in reality they are local business people who depend upon local customers and repeat customers for their business. There may be many marketing mistakes franchise owners make because they do not think of themselves as local business owners. QR Codes are a tool to help correct that. In fact almost anything a local business can do with a QR Code a franchise business can do
In spite of examples of large companies such as Taco Bell using QR Codes they really are custom made for small businesses. The biggest advantage is that they are very inexpensive to generate. There are a number of free and low cost QR Code Generators for marketing as well as platforms where you can build a QR Code campaign and a mobile website such as Linkblots.com. In fact Image Media Partners is now offering some QR Code Plans and Packages for businesses that offer low cost solutions for QR Code campaigns.
How You Can Use QR Codes for Franchise Businesses
Bridge to the online world: Since a QR Code can be printed on anything that can be printed on it is the perfect tool to bring your customer from the physical world to the online world. If your business already has any type of online presence, a website that you control, a Facebook page or even a Google Places or Yelp listing you can use a QR Code to connect to it. This may be something as simple as scanning the code to "Like" your Facebook page or connecting to a more robust mobile micro-website.
Promotions: Unlike printed coupons QR Codes, if used properly, don't expire because the code brings the user to a mobile website that can be updated with new information. For example if Monday's coupon is a free coke and Tuesday's coupon is an early bird special you can update the coupon and continue to use the same QR Code. La Croissanterie, a French fast-food outlet, is using QR Codes as part of their loyalty program. A Mexican restaurant chain owner in Michigan used QR Codes to promote his third outlet opening in Ann Arbor. He included the QR Codes in ads on posters and newspapers around the University of Michigan and got about four thousand scans.
Information: QR Codes would be too limiting if the only thing they did was make it easier to "Like" your Facebook page or pass as a fancy high-tech coupon. Even though in a recent study by MGH Modern Marketing 87% of the respondents who were interested in QR Codes said they would scan a code to get a coupon, 63% said they would scan the code to get more information, 53% said they would sign up to a mailing list to receive more information and 60% said they would scan the code to make a purchase. People are looking for information as well as deals. One cool thing Taco Bell is doing with their QR Codes is linking to a Taco Bell mobile site that not only has specials but a store locator, menus and nutritional and allergy information. What information would be helpful to your customers? Do you have a mailing list? Use the QR Code to sign them up.
Franchise business owners are like other local business owners who must connect with their local and repeat customers to stay in business. It doesn't matter if the business is a fast food franchise, chain store or a tax service, QR Codes offer a great opportunity to bring your customers from the physical world to the online world where you can connect, engage and market to them. Image Media Partners has started a new service to help small and medium sized businesses that want to get started in QR Code marketing. It is very flexible and affordable. Take a look at our
service plans
and let us know if you have any questions. If you have examples on how you use QR Codes in your business let us know in the comments below.
Photo Credit: Sierra Tierra