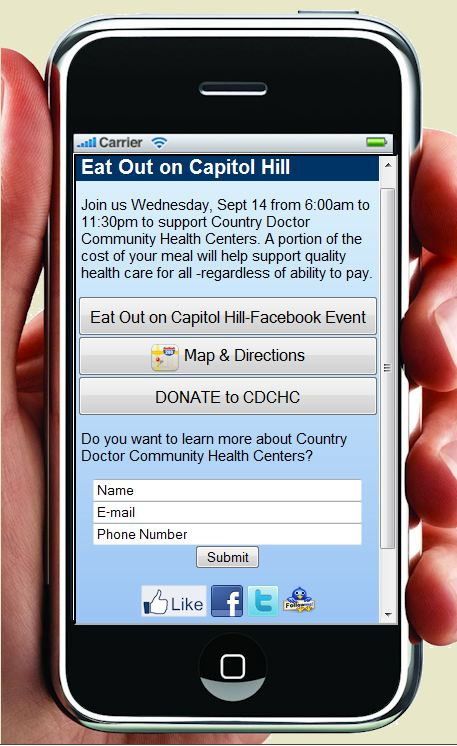 During the past few blogs I've been talking about using QR-Codes for marketing restaurants and small businesses and giving some suggestions for QR-Code generators for marketing. If you haven't already thought of a dozen or more things you can do with QR-Codes and places you can put them I will give you a few suggestions today. As Paul Kaan, the founding Director of The Social Larder in Melbourne, Australia pointed out to me, "QR Codes are a touch point that allows you to take people from the physical to the digital." So where do your customers connect with you in the physical world and where would you like to take them in the digital world? That is where you need a QR-Code.
For example, I am working with the Country Doctor Community Clinic here in Seattle and they are having an "Eat Out" in September as part of a fund raiser. For weeks before the event each participating restaurant, tavern and club will have a poster and table-tents with the QR-Code on the right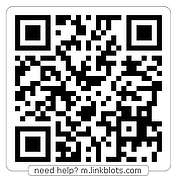 (if you don't have a QR-Code reader click the image to see the mobile optimized web page). On the mobile web page I generated using linkblots.com we have: Information about the event; a connection to Country Doctor's Facebook Event page; a donate button; a link to a Google Map with all the participants bookmarked; a Facebook "Like" icon; a Follow us on Twitter icon; share buttons for Facebook and Twitter; and a form for collecting contact information. See the image above left.
30 or More Suggestions for QR-Codes
The possibilities are just about endless so in no particular order here are more than 30 obvious and not so obvious suggestions:
Virtual Store: Order products with your smart phone; see what Tesco did in Korea.
Coupons: For sales, discounts and specials. Anyplace you can put a QR-Code you have a paperless coupon.
On Video/TV: You can't put a hot link in a video but you can put in a QR-Code especially if it's shown on an HD monitor. Reality shows can use it for voting; News shows can link to related stories; advertisers can link to products; shows and actors can link to fan pages.
Jumbotron: Advertisers in sports arenas can link to specials for sports fans who can scan the code from their seats.
Billboards: Make it big enough so people can scan it from the sidewalk or the road.
Real Estate: Codes on signs, flyers and ads can link to maps and directions to the house. Launch a video or slide show of the property.
Google Places and Maps: Link to a map of your listing for locations and directions.
Virtual Drawings: Put codes on tickets, table tents, menus and flyers and conduct virtual drawings. A few of the codes will show a "winning" ticket.
Surveys: Link to online surveys and find out what people think about what is going on right now.
Collect Information: Capture potential customer information by linking to a form. Be sure to offer an incentive for filling out the information.
Scavenger Hunt: Add some hi-tech fun into your next scavenger hunt. After scanning the QR-Code the hunters get clues to their next destination.
Facebook "Like": This is the obvious one; make sure it links to your fan page.
Twitter Follow: Get more peeps.
Tweet Your Product or Event: The code sends out a tweet like: "I'm eating at Joe's and the burgers are great!"
Check in to Foursquare: Or Gowalla or whatever the newest check in platform is.
Contact Information: An obvious use for business cards or flyers. Connect to a .cvs file they can import into their address book. Do you have a personal web page?
Products: You can put a QR-Code on anything with a printed label. A QR-Code on a bottle of beer or wine can send the customer directly to the Facebook page, website or wine club sign up. Other products can link to nutritional information, fan pages, contests or coupons.
Movie Posters: Link to a video preview or theater schedules.
Trade Shows: Link to product information, a Facebook "like" button or a contact form.
Car Shows: Have a separate code for each car that links to a Facebook "like" button so attendees can "vote" for their favorite and promote your event on their Facebook page.
Bands: Link to your tour schedule, MySpace page or .mp3 files of your latest recording.
Schedules and Appointments: Link to bus schedules, event dates and appointments.
Order dinner online: Order your next take-out dinner with your smart phone.
Portfolios: Photographers, designers and artists link to a slide show of your work.
Galleries and Museums: Link artwork directly to an artist's web page or to information about the artwork. Is the art for sale? Order it on your phone.
Donate: Nonprofits can collect donations when people see your poster or flyer.
Conference Badges: Let people scan your contact information when they meet you.
RSVP: On invitations, websites and event posters.
Self-guided tours: Link to written descriptions, slide shows, videos or audio files.
How's my driving? On tractors, trucks and taxi cabs let them know how they are doing.
Taxi Cabs: The one in front of you is full? Scan the code and call the cab company for the next one.
Call Us: Link to a phone number and get the call now.
Where are you using QR-Codes? Let us know below. If you would like some more information about how your business can use QR Codes in marketing contact us for a free analysis and consultation.
Photo credit: Linkblot.com