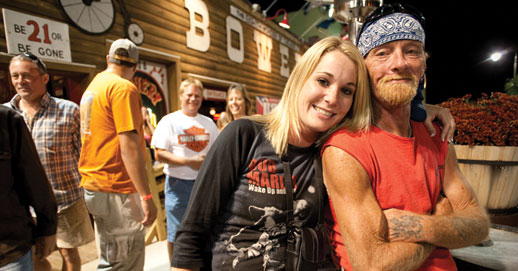 In my last blog Social Media for Restaurants: The Bowery's Facebook Success we talked with Michael V. Shamah, the Marketing Director for The Bowery in Myrtle Beach, SC, and he shared how important Facebook is to The Bowery's social media marketing effort. According to Michael "Facebook is the best thing out there for bars and nightclubs." If posting to Facebook was all that he did Michael could give his job to an intern and go sit out on the beach. Social media marketing however is a demanding mistress but I was able to get Michael to give me this great list of restaurant marketing tips.
Give things away: The Bowery is a fun destination and giving things away just adds to the excitement. The thing is the prize doesn't have to be much, a beer mug or a T-shirt will do and giving away "Free Admission" doesn't even deplete inventory. Giving things away works better then promoting specials, sales and discounts.
Make your fans "earn" the free gift: Only patrons, who "tagged" their photo on Facebook, signed up for a newsletter, claimed a Facebook Deal or interacted in some way, are eligible for a free gift.
Keep it Fun: I would imagine if you were a serious, high class, joint you would want to keep a bit more decorum but that's not an issue at The Bowery. Each table has a funny, tongue-in-cheek, place card with an invitation to join a fan club. On-line you can play "Whack-a-Yankee" (this is South Carolina after all) and win free admission. The point is not to be funny, the point is to be engaging. Give your customers what they want.
Sign them up: Every interaction, every contest, every give away is an opportunity to capture an e-mail, phone number of Facebook "like" so you can stay engaged and connected with your customers.
Keep Mobile: Interact with your customers on their smart phones. Make it easy to check in on mobile phones by setting up Facebook Places, Foursquare and Gowalla. Optimize your web site for mobile phones and use QRcodes at your location.
Texting: The Bowery uses TextMarks for text messages. They will send out a Tweet that says: "FREE ADMISSION!! Get out your fancy cell phones and text "BOWERY" to: 41411". When they do a "Free Admission" text is sent to the customer's cell phone and the Bowery gets a phone number added to their database that they can text future promotions to.
Claim Your Google Places: As well as your Yelp listing, the yellow pages, the Chamber of Commerce list and anyplace your customers may find you. Control your brand and your image. Michael said, "If they can't find you on Google you don't exist."
Involve your staff: The other morning I went out for breakfast and at the cashier's there was a "Like us on Facebook" sign with a QRCode (the QRCode didn't go to their Facebook page but that's another blog). I commented on this to the waiter and he said, "We're on Facebook? Really?" The entire staff at The Bowery knows about their social media marketing efforts and many of them participate in it. The bartenders, waiters, and the house band all interact with the Bowery's Facebook fans online.
Video: Every performance of the house band, Lee Travis & The Bounty Hunters, is recorded live on USTREAM. Michael says that the channel itself doesn't generate a lot of views but having the USTREAM Bowery-TV channel embedded on their home page adds just enough stickiness to keep people online a bit longer.
Keep Track: The Bowery keeps track of every campaign so they know what is working. Each promotion has a different code so they know if their customer got the "Free Admission" coupon from Facebook, Foursqure, Twitter, a billboard or the Chamber of Commerce. The Point-of-Sale (POS) register at the front door has 30 buttons, one for each promotional campaign.
Listen: Michael listens for any on-line mentions of The Bowery. When people post photos to flickr or send out a tweet he can respond with an affirmation or deal with any negative comments. This also helps him keep track of where people are interacting online because it's important to move to whatever platform people are using.
Don't Spam: Just because you have your customer's ear don't drive them crazy with useless promotions and silly sales. They have given you permission to contact them so give them stuff that reinforces the relationship but don't overdo it, otherwise they will just unsubscribe.
This was a lot of information. I suggest you get a beer, log onto The Bowery's website, listen to Lee Travis & The Bounty Hunters, and play Whack-a-Yankee.. Of course if you are a Yankee you can always Whack-the-Rebels. If you are a restaurant, pub or tavern and would like to get some more training on social media marketing join us for our Social Media Workshop 101 on July 24th at the Seattle Bartending College. If you are not in the Seattle area you can always contact us for a free analysis of your social media marketing plan.
Have a safe and fun 4th of July.
Photo Credit: The Bowery