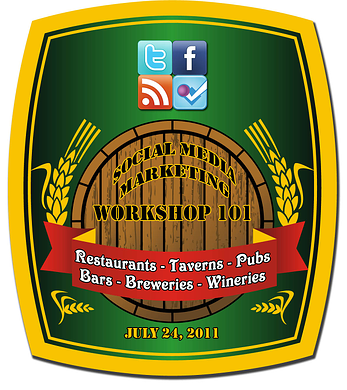 On July 24th I am going to be teaming up with Sindi Lindberg, of SindiwithanS and the Seattle Bartending College to hold a workshop for restaurants, taverns, pubs, bistros, breweries, wineries, and really anyone in the food and beverage service industry who wants to learn the basics of social media marketing. The purpose of the class will be to introduce the basics of setting up social media platforms such as Facebook and Twitter; establishing your businesses presence on sights such as Google Places and Yelp; and using promotional tools such as Foursquare, Facebook Places and Gowalla. We'll also talk about the importance of blogs and key words to drive traffic to your websites and to your business. It's going to be an awful lot of information but Sindi and I are planning on providing a CD-Rom full of material and resources to help the attendees out. You can get more details from our press release.
I have been interested in this area for some time. Twenty years ago I produced and directed a video tape about the emerging microbrewery movement called Beer and Ale: A Video Guide and always wanted to be more involved in some way. A few years ago as I was establishing Image Media Partners I was able to help my friend, John Mason, do some social media promotion for his winery Emtu Estates Wines. We didn't do a whole lot but this piqued an interest in me for the social media marketing issues faced by wineries and the other food and beverage service businesses. As part of these efforts I established the Beer & Social Media LinkedIn Group. This group has been very active with great members and some very good discussions.
A few months ago I was talking with Macy Heppner, the owner of the Seattle Bartending College, about how some restaurants and taverns do a great job of promoting themselves but how frustrating it is for me to want to connect with a pub or bistro and I can't find their Facebook page or I see they have never claimed their Google Places. Macy suggested that I do a workshop for owners of bars, taverns, restaurants and brew pubs and he offered the Seattle Bartending College's new home in south Seattle for the class. I contacted Sindi Lindberg, the Founder and Chief Marketing Strategist of SindiwithanS, here in Seattle to help me out. Sindi is a strategist, brand builder, deep thinker, information junkie, communicator extraordinaire, buzz builder and lover of all things related to digital marketing and social media. She is also a great web designer and SEO expert who I have been working with on projects for Jen Mueller such as Talk Sporty to Me and Get Your Business on Course. I am very excited she agreed to work with me on this.
This workshop is going to be a lot of fun. It is going to be Sunday evening, a slow night for most bars and pubs, July 24th from 6:30 p.m. to 9:00 p.m. The cost is only $40 ($50 at the door) and you will get Sindi and me for 2-and-a-half hours, a CDRom full of resources, guides and how-to's, and we'll be providing light refreshments. I almost forgot to mention that each participant can also sign up for a free analysis of their web site and their social media marketing efforts.
Gearing up for this workshop I will be blogging about social media for the food and beverage service industry over the next few weeks. I will be talking about best practices, things you can do and show examples of great sites. If you are interested in the Social Media Workshop 101 you can register now. If you are not in Seattle but would be interested in a webinar send me a note at tim@imagemediapartners.com or leave a comment below. I hope you can make it and if not be sure to tell your friends.