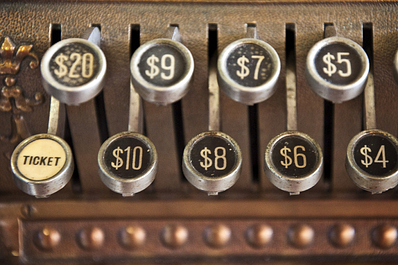 For the past few weeks I was helping Country Doctor Community Health Centers promote their Eat Out Columbia City fund raising event through their Facebook page and Twitter. The fund raising event was a great success. Of course without onsite surveys and follow up research we really cannot tell exactly how much influence our efforts had on the event. We can look at insights from Facebook and see that over the past month our posts about the event made 3,686 impressions and see that post views went up 283%. We added 35 new "likes" to the Facebook page last month and the number of Twitter followers also jumped during the week of the event. Of course correlation is not causation, just because more people became involved in our Facebook page and Twitter at the same time we had a successful fundraiser doesn't mean one caused the other. We could spend a lot of time and money trying to figure this out. Or we can accept that the investment of only a few hours of time at least didn't negatively impact the return of a successful event.
We know from research such as the ENGAGEMENTdb Ranking the Top 100 Global Brands that there is a positive correlation between the amount and depth of social media involvement and profits even if we can't always show a direct cause and effect. We also know from the recent study by Edison Research, Social Habit 2011, that there are over 46 million Americans who are considered "Frequent Social Networkers." This group is young, mobile and active on social networks such as Facebook and Twitter. Does this mean that everyone you may want to connect with is on Facebook and Twitter and that your profits will increase if you connect? Of course not, but why ignore this influential group if they are there?
According to Edison Research Frequent Social Networkers are twice as likely as all social network users to be connected to brands and companies and Facebook is the leading platform for interaction. Facebook is also the leading social network for influencing buying decisions. Does this mean that having a Facebook page is going to convince someone who was not inclined to buy your product or service to buy? Probably not but it will reinforce brand loyalty to those who are already your fans. Did Country Doctor's Facebook page convince someone who is not a supporter to attend the EAT OUT Columbia City fund raising event? Probably not but it did give Country Doctor a platform to remind people who have already supported its cause to attend the event. The Facebook and Twitter promotions also informed fans of the event sponsors, such as Lottie's Lounge and Tutta Bella Neapolitan Pizzeria, that one of their favorite establishments was supporting Country Doctor and that if they came out to eat and drink on June 8th they had a good excuse to enjoy some pasta and support a good cause. The Facebook promotions did help spread the word. One Facebook group, Drinking for a Cause,, found out about the event and started promoting the EAT OUT fundraiser to its fans.
Will Social Media Marketing solve all your business' problems? No, but the investment is low, it won't hurt and it will probably help. Try it out and see what happens. Drinking for a Cause may show up at your next event. Image Media Partners helps businesses and nonprofits with their social media networking. Contact us for a free analysis of your social media and inbound marketing efforts.
Photo credit: David Trawin