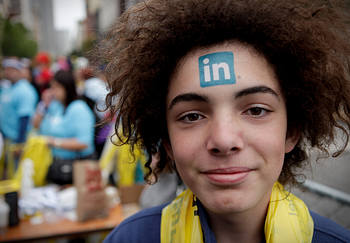 Last week we've been blogging about managing your online professional profile. I had given a workshop on Managing Your Professional Online Profile and suggested 7 Free Sites for your Professional Online Profile. In both of those blogs I said that the one place you must have a professional profile is LinkedIn. With 100 million users LinkedIn doesn't approach the 500 million users on Facebook but if you are a professional, you do business to business (B2B) marketing, you are looking for a job or you are trying to advance your career you should have an updated profile on LinkedIn.
There are five reasons why you should be keeping your LinkedIn profile up-to-date.
Demographics: This is the place where professionals hang out. According to LinkedIn 74% have a college degree, 69% earn over $60,000 annually and executives from every Fortune 500 company can be found on LinkedIn.
Job Searches: 73% of Fortune 100 companies use LinkedIn Hiring Solutions. Companies can post jobs and job seekers can easily search for jobs and get e-mail updates.
Groups: With 1.2 million posts and comments per week on LinkedIn groups it is a great place to find news, share blogs, ask questions and help others. Participating in groups can help you get your foot into the door or establish your credentials.
Professional Profile: LinkedIn gives you an easy platform to post and share your professional resume or CV. The share and PDF tools on your profile page make it easy for anyone to download or share your LinkedIn profile.
Connections: LinkedIn provides an easy and convenient way to connect with other professionals. The nature of LinkedIn makes it easy to ask for introductions, share professional information and promote others.
If I were to have only one professional online profile it would be on LinkedIn. I would have a link to my profile on my website and in the signature of my e-mail address and print the link on my business card. I would also encourage as many professional connections as possible. In fact, if you would like to connect with me, visit my LinkedIn Profile and add me to your Network. Be sure to let me about your LinkedIn experiences below.
Photo Credit: Chris Jordan Media