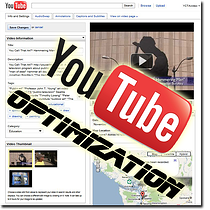 Like your web page and your blog posts, your YouTube Videos should be optimized for search engines. The big deal with videos and search engines is that search engines cannot see the video. The search engine cannot tell a thing about the video without metadata. This metadata is the information about the video that is attached to the video file. Information like the title, length, and key words makes up the metadata. In many file structures there is a lot of information you can attach to a video file but in YouTube there are basically four places where you can add metadata that will make a difference to search engines. These are the title, the description, the category, and the tags and keywords.
You can enter this information when you upload a video but you can also add it in or even change it later. To edit the video information:
Log into your YouTube account and go to your channel's page
Find your Channel's name in the upper right hand corner
Click the triangle symbol for the dropdown menu and choose "My Videos"
Find the video you want to edit and choose the "edit" tab
By default the "Info and Settings" should be open
Go down to the "Video Information" section and start to edit the metadata
Title:
The title will be how the video is identified and will be the first line seen in any YouTube or Google search. Make the title unique and descriptive and keep it under 90 characters. Use a keyword you think people would use to search for in your video's title. Many people use the word "video" in the title just to be certain people looking know it is a video when they find it.
Description:
You have 5,000 characters so give a complete and thorough description. Use as many key words as you can. If there are speakers or guests this is the place to name them. Put your web site's name and URL in the first line. This is the only place connected to the video where you can put a live link. You will need the entire URL including the "http://" to make it hot. If it is too long use a URL shortener.
Tags and Keywords:
Tags are usually a single word such as wave or beach. A key word is usually a descriptive string of words or names that are more specific. To keep them distinct from the tags put the words in quotation marks such as "La Jolla beach". For example a search for beach will turn up a lot of beach related videos. A search for La Jolla beach will turn up your video. If you don't put in the tags and keywords your video will not show up in the search.
Category:
YouTube has 15 categories. Choose one that is closest to the type of video you have.
There are of course many more things you can do to make your video more accessible and easily found but title, description, tags and keywords, and category are the main places on YouTube where you can add keywords that people will use to search for your videos.
For an easy to follow guide on how to edit the metadata for your YouTube video download the free E-Book: Search Engine Optimization for YouTube Videos.