Summer is in full swing and there seems to be no relief from the mosquitoes, humidity and heat. The next holiday is not till Labor Day. What can sound better then snuggling next to your sweetheart under the mistletoe, drinking mulled wine next to a roaring fire, and exchanging gifts by the Christmas tree? If you are a fan of Christmas, mid-summer can be like the doldrums. But if you are fan of summer, what could be better than a Santa in a Hawaiian shirt, eating hot dogs, drinking cold beer on the beach, and exchanging Christmas in July gifts?
Christmas in July seems to be popping up everywhere. The Hallmark Channel features a entire line of Christmas movies in July. Christmas in July Festivals and events are held annually across the country. And mid-summer Christmas in July sales seems to be custom made for retailers. Because of this many people think that Christmas in July is a marketing stunt dreamed up by Madison Avenue. But the true story of Christmas in July is older and a bit more entertaining.
July 25th is well, not exactly midway through the year, only five months till Christmas, but on a hot summer day Christmas seems like a long way off. In the Southern Hemisphere this is the middle of their winter. In places like Australia, New Zealand and South Africa, countries with a strong connection to England and its Dickensian Christmas traditions, July just seems more like Christmas. There is a story about some tourists in 1980 getting stuck in a snow storm in the Blue Mountains near Sydney and deciding to celebrate Christmas. I'm not sure how true that story is, I think the Aussie's were able to figure out that July was a great time to celebrate Christmas all on their own. In fact the Sovereign Hill resort near Melbourne in Victoria features a Christmas in July Winter Wonderland complete with snowfalls and visits from St. Nicholas and readings of A Christmas Carol. Besides, with December falling mid-summer in the Southern Hemisphere, when else can you wear an ugly Christmas sweater than in July?
It makes sense to celebrate Christmas in July south of the equator, but how did the tradition start in North America? There are many claims to the origins of this tradition. One story comes from Yellowstone Park. One summer, while traveling by stagecoach, a group of visitors were stranded by a freak blizzard at the Old Faithful Inn. Rather than bemoan their situation they celebrated Christmas in July. Just because no historians have been able to pinpoint an actual blizzard that happened during this time at that location does not dissuade true believers. Enough Rocky Mountain residents have been trapped by a freak summer snowfall to believe the tales. It is true that by the 1930's and 1940's the park's concessionaire employees, known as "savages", where celebrating with a private party on July 25th, and sometimes someone would dress up like Santa Clause. In 1954 these "Savage Days" celebrations were merged with a "Christmas in July" celebration. In 1959 the date was moved from July 25th to August 25th to coincide with the official end of the summer tourist season, and often included a performance of Handel's Messiah.
Another contender comes not from the Rocky Mountains but from the mountains of North Carolina. The Keystone Camp for girls in Brevard, North Carolina held its first Christmas in July celebration in 1933. The first celebration included Santa Claus, a Christmas Tree and snow made from cotton. The campers used laundry bags as makeshift stockings and exchanged gifts. This seems like a great way to liven up the summer and the tradition continues to this day. If you live in a warm climate, like North Carolina, you may want to check out these cool, refreshing treats for your Christmas in July party from Southern Living.
The earliest reference to "Christmas in July" that I can find actually comes from an 1892 French opera called Werther. Translated into English the Opera premiered in Chicago in March 29, 1894 and in New York that April. The opera opens in July with one of the characters teaching his children the French Christmas carol Noël! Jésus vient de naître. In the English translation the Father's drinking buddy observes, "When you sing Christmas in July, you rush the season." Unfortunately, this is about as whimsical as this opera gets. Even though the final act ends up six months later on Christmas, the leading man, spurned by the woman he loves, commits suicide. Hardly uplifting holiday fare when compared to "It's A Wonderful Life," "Miracle on 34th Street," or "How the Grinch Stole Christmas." Even though this opera introduced Americans to the phrase it would take Hollywood to really make "Christmas in July" popular.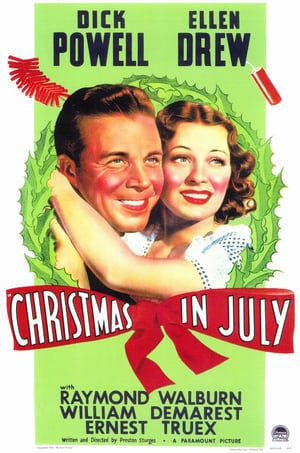 Christmas in July was the title of Preston Sturges' second film released in 1940, staring Dick Powell and Ellen Drew. Powell pays a not-so-talented ad man named Jimmy who is in love with Betty (Ellen Drew). Alas, they cannot get married because Jimmy does not make very much money. He enters a national radio contest to come up with a new slogan for Maxford House Coffee. The prize is $25,000 and Jimmy's entry is the befuddling slogan: "If you can't sleep at night, it's not the coffee, it's the bunk." Through a series of mishaps, Jimmy thinks he won the contest, proposes to Betty and the two go on a wild shopping spree. You guessed it, Jimmy really didn't win and he has to give back all the money. But being a Hollywood Christmas movie, all ends up well and the term Christmas in July became firmly ensconced in the American vernacular. So much so that the U.S. Post Office used it in a promotional campaign during 1944 and 1945 to encourage people to send early Christmas cards and gifts to soldiers and sailors serving on the front during World War II.
Christmas in July can be a pleasant break in a long hot summer, a chance to celebrate during the Southern Hemisphere's winter, or an excuse to get some early Christmas shopping done. If you are not into a summer yuletide, don't be a steamed up Grinch or an over-heated Scrooge. Relax and let others have their fun. Or you can put on your most festive Hawaiian Christmas Shirt, grab a hot dog and a beer and join Santa at the beach. I'm sure he'll enjoy the company.
Do you have any Christmas in July traditions or memories? Share them below in the comments section. And don't forget to hire Santa Claus for your summer party, he would love to see you.